"What you meant to say" is a new feature here on the Caffeinated blog. It's meant to be a compilation of the (many) grammatical/spelling/word choice mistakes we see all around us, all the time.  It occurred to me that I should start keeping a running list for fun, and then of course, I thought it would make a fun blog post. These are all real examples. Readers are welcomed to add their findings.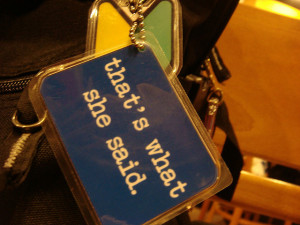 For the week ending July 10 (questionable word/usage is bolded):
Subject line on a spam email: This Video Is A Must Watch. [Effects Us All}
What you meant to say: Affects
***
Tweet: Come check out our conference room and setup a tour!
What you meant to say:  Set up.  As two words,  set up is a verb,  whereas setup is a noun.
***
Tweet: CAE stands for Certified Association Executive. They're the hallmark of a committed assoc. professional.
What you meant to say: It's
***
Tweet to a car rental company: Great service. Great cars. Will defiantly pick [name] again for my next trip
What you meant to say: Definitely, showing how you can't ever rely on autocorrect or spell check.
Deborah Brody writes and edits anything related to marketing communications. Most blog posts are written under the influence of caffeine.