Every Monday, I get a enewsletter that compiles events. Yesterday, it listed an event that sounded interesting and when I clicked on the link to learn more, it took me to a 404-error page not found.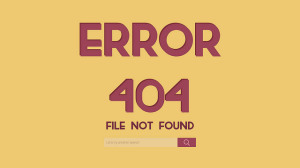 Broken links or missing pages are a hassle for your readers.  And not only that, search engines punish you for them (by affecting your SEO).
If you are planning an email/enewsletter/Tweet/Facebook post/etc.: Check your links before sending or posting. It's that simple. Just click on them and make sure they are taking you to the right place. It may be an extra few minutes of your time, but it will make your readers happy and make you look competent.
If you want to make sure there are no broken links on your website, there are many tools that can help you (search for broken link checker). Here's a compilation, specific for WordPress sites:
5 Tools to Check for Broken Links
Once you've found broken links on your website, you will want to fix them.
Web Marketing: How to Deal with Broken Links
Make sure to put some time and effort into avoiding sending people to non-existent website pages. It will help maintain your readers'  trust and your standing with the search engines.
If you come across a broken link, what do you do?
Deborah Brody writes and edits anything related to marketing communications. Most blog posts are written under the influence of caffeine.